Group Name: Apollo Support and Rescue
Group Contact Email: asr628@gmail.com
Group Mailing Address: 8553 N Beach St #137,  Fort Worth, Texas 76244
Group Phone Number:  817-658-9738
Group Website URL:  http://www.apollosupportandrescue.com/
Group Facebook Page URL:  http://www.facebook.com/asr62811
Group Adoption Portal Links: http://www.petfinder.com/shelters/TX1660.html
Year Group Established: 2012
Are you a 501(c)3 or independent rescue?:  501(c)3
How many foster animals does your group have?: 80
How many senior foster animals does your group have?:  20
URLs of Fundraising/Giving sites (Amazon Wish List, IGive, etc) for your rescue group:
http://www.amazon.com/gp/registry/registry.html?ie=UTF8&id=18UMMKCNGEUD7&type=wishlist
Do you get repeat adopters?:  Yes
How often do you rescue seniors?:  At least twice a month
Are you finding it easier, the same or harder to adopt out senior animals now than when you first began in rescue?:
The same.
If faced with multiple seniors to rescue, how do you decide who to pull?
I believe that we probably pull the one least likely to be adopted because they have a greater chance at euth at the
shelter. We also pull ones with simple hairloss that could just be caused by poor nutrition or a flea allergy and are easily fixable. 🙂
If you're senior specific, what made you choose rescuing seniors over younger animals?  If not senior specific, why did you decide to include seniors in your rescue program?
We rescue seniors because they have given their whole life to someone only to be dumped at the shelter or outside in the elements.
We want to give them a happy ending to their life and not let them suffer at the hands of someone who has possibly not shown them any love in the end.
They deserve the same amount of attention that a younger dog gets and we strive to give them that.
What problems or difficulties have you had adopting out seniors?
Once seniors are adopted from us we haven't had any problems.. The problems are more leading up to the adoption and letting
possible adopters know the problems that a particular dog may have, if any.
What sort of prejudices do you find held against senior animals?
The fact that they are older and won't be around for long, health problems due to age, people don't think they are cute enough, they may
have heart worms and adopters are nervous that they will not survive the treatment etc
What special expenses have you found needed with seniors that you don't generally have with younger dogs? (This is generalized and isn't meant to include medical expenses for more catastrophic illnesses.)
Memory foam beds, joint vitamins, meds for kidney problems and thyroid issues, special foods , dentals and teeth extractions
Have you found something that helps get seniors adopted?
Promoting the fact that seniors are already potty trained, passed the puppy chewing phase and don't need an extreme amount of
exercise to keep them out of trouble always seems to help ease adopters minds when it comes to adopting a senior.
Is there anything else that you'd like to share about your rescue group?
We are a rescue group and to us that means striving for excellence and not giving up on our dogs when times get tough. If we get
a pet that ends up having parvo we take them to our vet and we somehow raise the funds to save their life. We rescue dogs and cats for a reason and to us that does not mean leaving seniors, paralyzed or sick pets to fend forthemselves. We do want to get adoptable pets but we don't leave the less adoptable pets behind. We have actually adopted out a one eyed dog, a 3 legged dog and a paralyzed cat.We currently have another one eyed dog and a deaf dog in our rescue that we are certain will get adopted as well. So along with seniors, we also rescue special needs dogs and cats and have been successful in placing them.

Ginger (Available)

Banjo (Available)

Banjo (Available)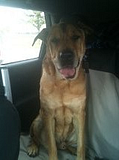 Sampson (Available)

Sampson (Available)

Gracie (Available)

Gracie (Available)