Group Name: DFW Beagle Buddies
Group Contact Email: dfwbeaglebuddies@gmail.com
Group Mailing Address:
Group Phone Number:
Group Website URL:  http://www.dfwbeaglebuddies.org/
Group Facebook Page URL:  http://www.facebook.com/?ref=logo#!/DFWBeagleBuddies
Group Adoption Portal Links:
http://www.petfinder.com/pet-search?shelterid=TX1589
http://dfwbeaglebuddies.rescueme.org/
http://www.adoptapet.com/shelter82519-pets.html
Year Group Established: 2011
Are you a 501(c)3 or independent rescue?: 501(c)3
How many foster animals does your group have?:  15
How many senior foster animals does your group have?:  6
URLs of Fundraising/Giving sites (Amazon Wish List, IGive, etc) for your rescue group:
http://www.amazon.com/registry/wishlist/397UKG81DGYOD/
Do you get repeat adopters?:  Yes
How often do you rescue seniors?:   As often as possible! At the moment, seniors make up about 50% of the dogs in our care
Are you finding it easier, the same or harder to adopt out senior animals now than when you first began in rescue?:
The same.
If faced with multiple seniors to rescue, how do you decide who to pull?
We try to decide who we can be of the most help to or who is most urgent.
If you're senior specific, what made you choose rescuing seniors over younger animals?  If not senior specific, why did you decide to include seniors in your rescue program?
We love seniors – we know they are amazing dogs with lots of love left to give and that they can make wonderful pets for almost any
family.
What problems or difficulties have you had adopting out seniors?
We often have people who don't want to adopt a dog over 2 or a dog that has health problems.
What sort of prejudices do you find held against senior animals?
There is definitely a stigma for older pets, especially seniors. Many adopters envision a lifetime of love with a new pet and don't
want to cut that time short by adopting an older pet. We try to guide them to the best pet for them, regardless of age.
What special expenses have you found needed with seniors that you don't generally have with younger dogs? (This is generalized and isn't meant to include medical expenses for more catastrophic illnesses.)
Thyroid medication, heartworm treatment, prescription diets, extra lab work, etc.
Have you found something that helps get seniors adopted?
We just look for that special person who will open their heart to a senior pet.
Is there anything else that you'd like to share about your rescue group?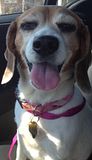 Simone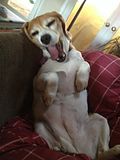 Simone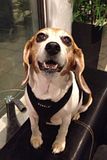 Simone

Lula

Lula

Lily

Lily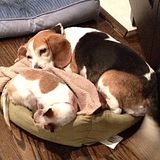 Lily (and friend)

Khaki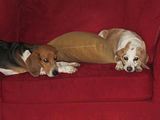 Khaki (and friend)

Khaki

Gabbie and Tangie

Gabbie and Tangie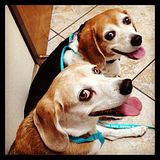 Gabbie and Tangie