Group Name: DFW Cocker Spaniel Rescue
Group Contact Email: dfwcsr@gmail.com
Group Mailing Address: P. O. Box 863704, Plano, TX 75086-3704
Group Phone Number: 972-994-1133
Group Website URL:  http://www.dfwcockerrescue.org/
Group Facebook Page URL:  https://www.facebook.com/dfwcockerrescue
Group Adoption Portal Links:
http://www.petfinder.com/shelters/TX286.html
Year Group Established: 2000
Are you a 501(c)3 or independent rescue?: 501(c)3
How many foster animals does your group have?: 50
How many senior foster animals does your group have?: 10
URLs of Fundraising/Giving sites (Amazon Wish List, IGive, etc) for your rescue group :
None that I am aware of.  We do have fundraising availability on our website, we use ChipIns for expensive medical procedures
and send out several newsletters per year requesting donations.
Do you get repeat adopters?:  Yes
How often do you rescue seniors?:  Monthly
Are you finding it easier, the same or harder to adopt out senior animals now than when you first began in rescue?:
Harder
If faced with multiple seniors to rescue, how do you decide who to pull?
Honestly, we try to pull all seniors.  We have taken to trying to get fosters for them before we pull them and usually
succeed.  On occasion, we have had to turn down a senior but it is rare.
If you're senior specific, what made you choose rescuing seniors over younger animals?  If not senior specific, why did you decide to include seniors in your rescue program?
We are cocker spaniel specific and senior cockers need homes too.
What problems or difficulties have you had adopting out seniors?
Some adopters shy away from seniors believing they will experience heartbreak sooner than with a younger pup.
What sort of prejudices do you find held against senior animals?
That they will not live as long as a younger pup and may have health issues.
What special expenses have you found needed with seniors that you don't generally have with younger dogs? (This is generalized and isn't meant to include medical expenses for more catastrophic illnesses.)
We tend to do more cataract surgeries on seniors but our juniors are not immune to the condition either.  We do ear ablations when absolutely necessary but again this happens with pups of all ages.  I think in general, we tend to spend a bit more on some seniors but certainly not all.
Have you found something that helps get seniors adopted?
We have senior adoption months when the focus is on seniors.
Is there anything else that you'd like to share about your rescue group?
Nothing else I can think of off hand.  We love cocker spaniels and do our best to rescue and find forever homes for all
cocker spaniels that come across our path.
More photos of each senior are located on group's website.

Pepper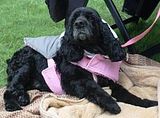 Natasha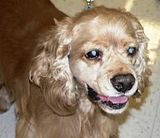 Moss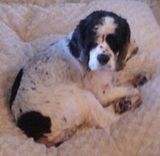 Lena

Baby Jane

Bethany

Higgens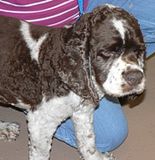 Beaux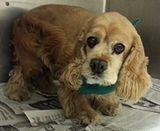 Tiger

Cole

Sadie Joy