Group Name: Lone Star Boxer Rescue
Group Contact Email: info@lsbr.org
Group Mailing Address: 21175 Tomball Pkwy #389, Houston, TX 77070
Group Phone Number:  281-944-5727
Group Website URL:  http://www.lsbr.org/
Group Facebook Page URL:  http://www.facebook.com/lonestarboxerrescue
Group Adoption Portal Links: Petfinder, Pawsitively Texas, PetBond.com,
Adopt-a-Pet, Pets911.com
Year Group Established: 1999
Are you a 501(c)3 or independent rescue?: 501(c)3
How many foster animals does your group have?: 80
How many senior foster animals does your group have?:  17
Fundraising/Giving sites (Amazon Wish List, IGive, etc) for your rescue group:
iGive, Cafe Press, Simple Dog, Kuranda, Kroger, Share, Linkshare
Do you get repeat adopters?: Yes
How often do you rescue seniors?:  Regularly
Are you finding it easier, the same or harder to adopt out senior animals now than when you first began in rescue?:  Same
If faced with multiple seniors to rescue, how do you decide who to pull?
Must be dog & people friendly.
If you're senior specific, what made you choose rescuing seniors over younger animals?  If not senior specific, why did you decide to include seniors in your rescue program?
We feel that seniors deserve the same opportunity as younger dogs.
What problems or difficulties have you had adopting out seniors?
Most people looking to adopt want younger dogs or
puppies.   Senior pets make great companions but most people aren't willing
to take the chance on a dog they could lose in a short time.
What sort of prejudices do you find held against senior animals?
Short lived, potential for major medical issues,  harder to train, may not be good with children
What special expenses have you found needed with seniors that you don't generally have with younger dogs? (This is generalized and isn't meant to include medical expenses for more catastrophic illnesses.)
Typically just maintenance medications for joint issues, incontinence, recurring UTI's
Have you found something that helps get seniors adopted?
Discounted adoption fee.
We also have a Forever Foster Program we offer on some seniors as well as the terminally ill that still have quality of life.
Is there anything else that you'd like to share about your rescue group?
We have some volunteers as well as Board Members that choose to foster only seniors and the medically-challenged as they are harder placements.
Thumbnails go to full-sized photo that has a link to the dog's page on the LSBR website.

Belle

Scarlett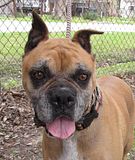 Jewell

Fiona